---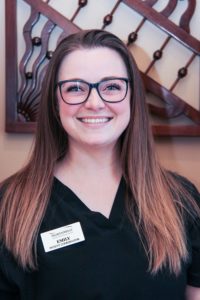 Emily – Patient Coordinator
Emily is a proud graduate of the Dental Assistance program at First Institute in Crystal Lake. Before she joined our practice, she was actually a surgical dental assistant for about 7 years. She knows that this will sound strange, but she has always liked going to the dentist. That's why she loves getting to know our patients so that she can help them achieve healthy, confident smiles. You'll find Emily answering phones, scheduling patients, verifying insurance, and doing anything that she can to make patients comfortable. Outside of work, Emily is a huge animal lover, so you might find her and her family traveling and exploring zoos.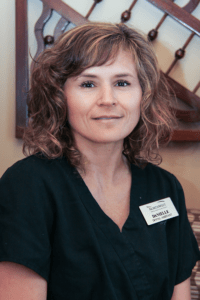 Danielle – Dental Assistant
Danielle does more than just assist the dentists and help patients, she's also a Ms. Fix-it, wearing many hats around the office. She's been a part of this dental family for over two decades, so she definitely knows her way around the office. Danielle says helping people and having a purpose is what she loves most about her smile-saving work as a dental assistant. She says she kind of fell into dentistry and enjoys it because you feel like you're part of an extended dental family. Danielle is kind, fun, high-energy, helpful, and respectful. When she's not assisting doctors and patients, Danielle is usually doing something involved with exercise or fitness. She enjoys running, traveling, musicals and concerts, being with her daughter, and trying new restaurants.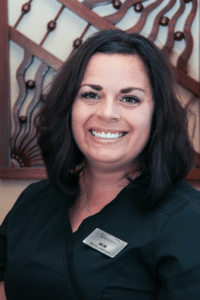 Debi – Dental Assistant
With nearly three decades of dental experience under her belt, it's safe to say Debi knows a thing or two about teeth. We're so thrilled to have her as part of our dental family, and so are our patients! What started as a part-time job working in dentistry in high school, made Debi think it could be fun as a full-time career. Fast forward nearly thirty years later, and she's still loving what she does, educating patients and helping them to feel at ease. Debi is so passionate about her work, she says she'd probably teach and train other dental assistants if she wasn't working with us. (And breed French Bulldogs too!) Debi is easy-going, friendly, organized, and determined. When she's not busy at work, Debi enjoys being with her husband Jeff and their three daughters, watching movies, reading a good book and spending time with their Frenchie puppies.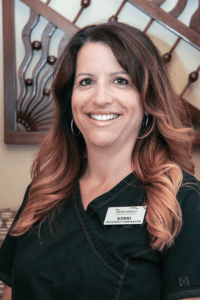 Kerri – Front Desk
Kerri brings over 27 years of dental experience to the office both assisting and managing the front desk duties. This means she's a master of all things scheduling, billing, collections, and insurance. She doesn't have just one thing she loves about her job. Kerri says it's her fellow team members, her bosses, and (of course) her patients that make it fun to come to the office every day. Kerri works hard to continue learning every day, consistently improving our patient experience and customer service standards. You'll find that Kerri is honest, dependable, hard-working, fun, and caring. Outside of work, Kerri is usually doing something active like playing with her kids, volleyball, camping, and riding bikes.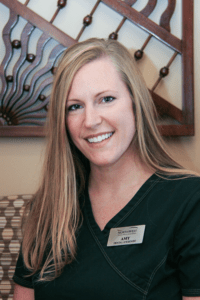 Amy – Registered Dental Hygienist
Amy earned her credentials and training in dental hygiene from Rock Valley College. She's also certified in pain management and level one laser therapy. As a registered dental hygienist, Amy spends her time at the office taking digital x-rays, screening patients' periodontal health, cleaning teeth, and helping with pain management. Amy says she comes to work each day not feeling like she's going to a job. Dental hygiene is truly her passion, and the bonus is how rewarding it can be to make a difference in people's lives. Amy was honored as the "Golden Scaler" of her college graduating class. She's enthusiastic, creative, friendly, personable, and outgoing. When it comes to her work, Amy is very meticulous. When she's done helping patients, Amy enjoys taking care of her busy blended family, including five kids. Along with her husband (a first responder), they enjoy camping as a family, volunteering, and caring for their rescue pets.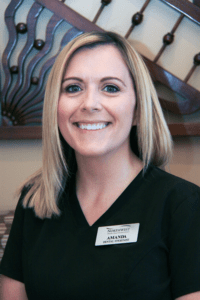 Amanda – Dental Hygienist
Amanda has been working in the dental field since 2012 after graduating from the College of Lake County. One of her main duties as one of our talented dental hygienists is to help patients achieve optimal oral health through regular cleanings and at-home instructions. Amanda says being a dental hygienist is rewarding work because she is providing a service to people that when they leave they feel better, and it makes them smile. Amanda decided to pursue dentistry for a career because she loves her teeth and always wanted to work in healthcare. She says working with her fellow team members is a unique and rewarding experience because of their ability to connect with people, leading to lifelong relationships. Amanda is a volunteer with RAM (Remote Area Medical) and MOM (Mission of Mercy) to provide dental care to people in need. Amanda is caring, ambitious, kind, friendly, and short! She enjoys spending time with her three boys, biking, and hiking.